Mexican Riviera

12/22/2013 -- 12/29/2013
---
The Mexican Riviera, referring collectively to about twenty cities and lagoons lying on the western coast of Mexico, has become popular among tourists. The Mexican government aggressively promoted the building of resorts along the Pacific coast during the 1970's, dubbing the stretch between Puerto Vallarta down to Manzanillo the "Costa de Oro," or "Gold Coast." But the entire coast, known as the Mexican Riviera in the U.S. cruise industry, is famous for pristine beaches set against stunning cliffs, coves and verdant jungle landscape, charming beach towns, and endless water sports and recreation.
Getting there ...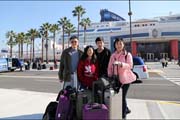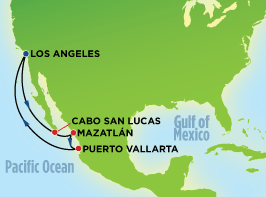 It is our first time trying a cruise vacation. We booked the Norwegian Cruise Line 7-day Mexican Riviera embarking from Los Angeles, with ports of call in Cabo San Lucas, Mazatlan, and Puerto Vallarta. Because of the ideal warm winter weather, the easy transport to LA, the perfect itinerary to cover Christmas holiday, and four other good family friends' help, we finally convinced Woanyu to jump on board for this cruise. We began our long drive to LA before 6:30AM. It was a smooth drive so we got to the port of LA right before noon. With our early arrival and priority check-in, we were onboard much earlier than our friends, though there was already a good-sized line when we got there.
Day 1 (12/22) ...
Norwegian Star
After boarding the ship, we were led to Cagney's Steakhouse for our complimentary lunch. Before we finished our lunch, we were informed that our stateroom was ready, and we were eager to see our home for the next 7 days. We also took a quick look around the ship (mainly deck 12 and 13) to check out the view and to see how we could entertain ourselves in the next few days.

Day 2 (12/23 At Sea) ...
At Sea
It was a full day at sea, and it was quite easy to get bored on board. We ended up in the library so that Linus could do some SAT practice.
I also spent quite some time on our balcony just to relax and gaze at the ocean and horizon. Luckily, my boredom was paid off with sights of dolphins and flying fish jumping next to the ship.
Evening
We had a VIP event (Drink with Captain) at Spinnaker Lounge, but the captain did not show up. After waiting and having some drinks and snacks, we decided the wait wasn't worth it and went to dinner. We joined our friends for a nice meal at the Versailles Main Dining Room.
Stardust Showtime: "Band on the Run" -- It's a show about the songs and clubs of the 70's that Linus and Iris are too young to recognize....
Day 3 (12/24 Cabo San Lucas) ...
Cabo San Lucas (aka "Cabo"), a city at the southern tip of the Baja California peninsula, has been rated as one of Mexico's top 5 tourist destinations. The beaches, surfing, and sport fish opportunities in Cabo San Lucas have attracted a great number of Mexican natives and foreigners to spend their vacations in large-scale tourist developments there.
We arrived in Cabo with nice coastal views of Cabo's signature landmark El Arco ("The Arch"), a rock formation at the tip of "Land's End," at around noon. Since it is a small port, we anchored off shore and took a tender shuttle to land.
Mexican Outback and Camel Ride
We signed up for the shore excursion "Mexican Outback and Camel Ride", which took us into the desert outback of the Baja Peninsula, heading to the beach for a magnificent camel ride overlooking the beautiful Pacific Ocean. It was a bit weird to ride camels in Mexico (in fact, these camels were imported from Texas), but it was still fun nonetheless (although I thought the camels were slightly on the slow side). Since we could not take our cameras on camels (except my GoPro), we had to buy photos taken by the tour staff (really expensive...).

After the Camel ride, we were served with an authentic Mexican cuisine with free shots of three different kinds of tequila.
NCL Holiday Extravaganza Show

Day 4 (12/25 Mazatlan) ...
Mazatlan is not only a booming resort town, but also the largest port on Mexico's Pacific coast. It is a popular tourist destination, with its beaches lined with resort hotels providing various surfing, sailing and scuba diving activities. We arrived in Mazatlan in the early morning on Christmas Day, and we were greeted by a local chorus with beautiful voices.


Afterwards, we visited a tequila factory and got more free tequila to drink. This time even Linus took a few shots to feel the burn of alcohol.
Stardust Showtime: "Magika" by Sander & Alison. Magic show is always a popular event for any age!
Day 5 (12/26 Puerto Vallarta) ...
Puerto Vallarta is a Mexican balneario resort city situated on the Pacific Ocean's Bahía de Banderas. The American director John Huston filmed his 1963 film The Night of the Iguana in Mismaloya, a small town just south of Puerto Vallarta. During the filming, the US media gave extensive coverage to Elizabeth Taylor's extramarital affair with Richard Burton. The subsequent publicity helped put Puerto Vallarta on the map for US tourists.
Las Caletas Hideaway
Las Caletas was once the private home of the famous film director John Huston, who considered it one of the most beautiful places in the world. Today, it's an exclusive tropical beach hideaway where you can enjoy an extraordinary day of sun, fun, and adventure. It was almost an hour boat ride (one way) to Las Caletas and crew actually provided some onboard show to entertain us to kill some time. Linus and Iris were geared up to try their first snorkeling experience. Iris took the GoPro underwater and got very nice footage of their snorkeling.

Dinner at Teppanyaki -- we made the reservation when we just got onboard on the first day since there are only 12 seats for Teppanyaki. We used to have Teppanyaki quite often when Linus and Iris were younger, but have not had it for some time since the local Teppanyaki restaurant closed a few years ago.
Stardust Showtime: "Marrambolla" featuring Acrobatic Duo Maria & Dmitry
Day 6 & 7 (12/27 & 12/28 At Sea) ...
It was quite a challenge trying to figure out what we could do for two full days at sea. We actually spent most of our time in our room watching TV and movies. Our penthouse suite was quite comfortable and the balcony was really a nice place for fresh air and ocean view. My daily routine was something like this: taking sunrise pictures, going to gym, going back to room to wait until 9AM to wake up Linus and Iris, having a late breakfast, taking a short walk, feeling bored, coming back to room to watch TV or read Nook, having a late lunch, taking another short walk (shopping), feeling bored again, coming back to room to take a nap and watch more movies (or reading on my Nook), checking out sunset, going to see an evening show (magic show, comedy show, etc.), having a late dinner, coming back to room and feeling bored and tired, and finally going to bed (did I forget to take a shower?) ....
On the last day, we tried the specialty restaurant "Moderno" for dinner. It is an authentic Brazilian with steakhouse slow-roasted meats including beef, pork, lamb and chicken – all served and carved tableside. Since we already have had too much meat in the past few days, it turned out grilled pineapples were our favorite.
Day 8 (12/29 Los Angeles) ...
We arrived in the Port of LA at around 7AM. I could not sleep much since I found there was another cruise ship sailing beside us (at ~ 2AM). It was a serene feeling to see a ghost-like ship in the almost total darkness. We entered the port just before sunrise, and I sat on the balcony to enjoy the twilight dawn and cool air.
Getty Center
We went to visit the Getty Center on our drive back to SF Bay Area. The $1.3 billion Center opened to the public on December 16, 1997 and is well known for its architecture, gardens, and views overlooking Los Angeles. The Center branch of the Museum features pre-20th-century European paintings, drawings, illuminated manuscripts, sculpture, and decorative arts; and 19th- and 20th-century American, Asian, and European photographs. In addition, the Museum's collection at the Center includes outdoor sculpture displayed on terraces and in gardens and the large Central Garden designed by Robert Irwin.
Going Home ...
It is a 6+ hours drive with some occasional traffic on Highway 5. It's time for Linus to share some driving load and he drove the 2nd half (~ 3 hours) of trip back to the Bay Area.
Cruise vacation is a new experience for us. Although the shore excursions were interesting and exciting, there was not enough time to fully explore each port of call. If you're someone (like me) who cannot sit still for a day, does not enjoy delicate cuisine (or all-you-can-eat buffet), does not like shopping/party/gambling, and always tries to find new things to explore (and take new pictures), then you may get bored quickly onboard. If you like a slow pace and relaxed luxurious vacation, then it would be a good choice for you.
---