Costa Rica

12/31/2016 -- 1/8/2017
---
With over 500,000 plant and animal species, Costa Rica is one of the world's most biologically diverse countries. The country has an intense array environmental attractions - majestic volcanoes, misty cloud forests, stunning river valleys and jungles, and hundreds of beaches along the Pacific and Caribbean coasts. Because Costa Rica is located between eight and 12 degrees north of the Equator, the climate is Tropical year round. The year can be split into two periods: the dry season goes from December to April, and rainy season goes from May to November.
Getting there ...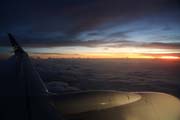 I planned this Costa Rica trip with the great help from Elena at Costa Rica Expeditions. She suggested our itinerary and planned most activities for us. We decided to choose less touristy regions (San Gerardo de Dota and Osa Peninsula) to avoid the crowds, but still experience the beauty and diversity of Costa Rica.
We had an red-eye flight on New Year's Eve, and we had the first sunrise of 2017 in the air above somewhere in Central America. With a short stop in the Panama City, we arrived in San Jose (not the one in California :-) ) in the early morning on the New Year Day, and met with our guide William and driver Danny, who had already been waiting for us at the airport.
Day 1 (Jan 1) ...
San Jose, Costa Rica


San Jose is the capital of

Costa Rica

and the nation's largest city, and its metropolitan area stretches beyond the city limits and comprises a third of the country's population.

We drove into the San Jose city for a quick city tour. Since it was the New Year Day, the traffic was extremely light (otherwise it should be bumper-to-bumper at this rush hour on a typical day). We walked around the downtown area (National Theater and Metropolitan Cathedral, etc.), but did not spend too much time in the city because all museums/attractions were closed today. My feeling about San Jose is that it could be a beautiful city if they put some historic architectures and heritage in a better shape.

Cartago
Cartago (25km east of San Jose) was the capital of Costa Rica from 1574 to 1824.

Many

pilgrims

come to Cartago annually, to visit the nation's principal

church

, the enormous

Basilica de Nuestra Señora de los Ángeles

, on the feast day of the Virgin of the Angels (August 2). We visited the Santiago Apóstol Parish Ruins, a few blocks from the basilica. Despite their beauty, they are not real ruins but an unfinished building (the first church was damaged by an earthquake in 1630, but several attempts of new constructions were interrupted and cancelled by later earthquakes in the past few centuries).
We had a traditional Costa Rica lunch just outside Cartago. After lunch, we headed toward our first destination: San Gerardo de Dota. (We stopped at a countryside house on the way to take a few pictures. However, I was not really able to take some decent photos...)
Savegre Hotel - Natural Reserve & Spa
Nested in the Savegre River Valley, San Gerardo de Dota is a little-known haven for birdwatcher and hiker. The surrounding cloud forest is home for ~200 bird species including tanagers, hummingbirds, woodpeckers and the famous resplendent quetzals. Since its high elevation (7000 feet and above), it was quite cool and even chilly at night that we found making a fire was a good way to keep our cabin cozy.

Day 2 (Jan 2) ...
Bird Watching
We (just Woanyu and I only) got up early to go with our guide William to a location where quetzals are often spotted. We left the lodge before sunrise and we were the first to get there (before a crowd of people showed up). Although we did see a few quetzals in the area, they were hidden in the branches too far away to get decent photos. It was still a good experience to watch birds up close through the scope.
Savegre River Waterfalls
After breakfast, we started our hike to the Savegre River Waterfalls. As we walked along the river, we encountered many different birds (more than the photos I showed below...). After a while, William talked to a few other hikers and found out we were on the wrong trail because of a misplaced sign. After about one and a half hour of hiking (with frequent stops to see birds), we reached the 1st waterfall which is hidden behind a "cave" made by a huge rock. Due to the trail condition, we decided not to continue to the main waterfall. When we were back to the trailhead, we were so delighted to see our driver Danny waiting for us with our van!
Afternoon
After lunch, we had a leisure afternoon: after playing a few rounds of card games, Woanyu and Iris went to the spa, Linus went to the lounge to read, and I went to the garden for more bird photos.
Sunset
I asked William and Danny for some location for sunset. We went uphill to the main highway and climbed up to 11,000 feet and found a vista point with unobstructed view (the only vista in miles). From this high point, we can see the cloud rolling in front of us and it is not difficult to understand why the area beneath us is called "cloud forest".
Day 3 (Jan 3) ...
Los Quetzals National Park
Declared a national park in July of 2005, Los Quetzals National Park is set at a high altitude (between 2,000-3,000 meters) along the Talamancan mountain range, and much of the park is covered in cloud forest and protects a crucial habitat for a number of plant and animal species: the most notable of these animals is the quetzal, for whom the park was named.
We had a natural guide who worked with farmers to track quetzals at different local communities. They provided information to the park and helped conservation and eco-tourism in the region. With a short hike, we spotted a couple of quetzals at one of their favorite wild avocado tree. It was really a game of patience to get a good picture of these elusive birds since they often hid in the dense branches.
Paraíso Quetzal Lodge
After the lunch at the lodge, there was a planned photo session for me to photograph hummingbirds. The setting is quite simple: fresh-cut flowers decorated with sugar water. We chose to move the setup out of the covered shady area since I didn't like the fake background. With 400mm long lens on tripod, manual pre-focus, ISO400, F10 and 1/640 sec, and cable release in hand, it was quite easy to get these hummingbirds in action. I had to specially thank my family for patiently waiting in the lodge (well, they had Wi-Fi access...) for an hour to let me enjoy my hobby.
When we went back to Savegre River Valley, there was a road construction about 4 km from our hotel. Since the road would not be open for another 45 minutes, we decided to walk for the last 4 km instead of waiting in the car. During the walk, Linus and I had a good conversation with William about the history and background of Costa Rica.
Star Photography at Night
William, Danny, and I went out after dinner to try some dark night sky photography. The sky was so clear with no light pollution that I could see more stars than I had ever been able to see.

Day 4 (Jan 4) ...
Driving to Osa Peninsula
We started early in the morning since the road construction would resume at 7AM. On the way we saw ash erupting from Turrialba Volcano, and later we were told that some flights were cancelled around San Jose due to volcanic activities.
Pacific Ocean
After a few hours of driving, we reached the Pacific Ocean side. We went up to a hill which provided a panoramic view of the ocean (close to Parque Marino Ballena) and we were treated with delicious pineapples. We started to feel the heat of the tropical weather in Costa Rica that we had not experienced in the mountains for the past few days.

El Remanso
It was a long 6-hour driving from San Gerardo de Dota to Puerto Jimenez at Osa Peninsula. We were picked up by a staff from El Remanso and started the 2nd part of our journey in Costa Rica.
Hidden in the rainforest above a secluded and wild beach, El Remanso Lodge is located on Costa Rica's southwest Pacific side of the Osa Peninsula, one of the world's most pristine and biodiverse rainforests. The owner-operated Osa Peninsula Lodging offers a total of 13 spacious units between cabins and rooms, with an overall capacity for up to 30 guests. It was one of the first in Costa Rica to provide its electricity exclusively by its own micro-hydro system.
After a late lunch, we walked around the resort property (200 acres with miles of trails). There are 2 suspended bridges within the short hike loop. I was never comfortable walking on these bridges...
Night Hike
The night hike started shortly after sunset. The first question the guide asked was what creatures you did not want to see :-) We were given very powerful flashlights so we can walk and search in the dark. The rainforest was quite alive at night if you know where to look. To be honest, I don't think I will want to be in the forest alone after dark...
Day 5 (Jan 5) ...
Long Hike
It was called "Long Hike" not because of its distance, but because of its slow pace (~ 3 hours from before 9AM till after 12PM). The guide led us through different trails to find various plants, birds, insects, and monkeys. We had a close encounter with a coati when it almost walked up to us while searching for food.
Waterfall Rappelling
The most thrilling activity we planned for this trip was this waterfall rappelling. This tour

takes you into the heart of the jungle through a wild river canyon at El Remanso. The first mental barrier was when you were standing at the edge of the cliff and were asked to lean back toward the fall. I could really feel my heart beat and my adrenaline kick in. It took a few steps to get used to the body positions and to balance my movements. After rappelling the first waterfall, you follow the river to the second, then third waterfall. The best is saved for last as the fourth waterfall is a 70 foot high beauty. The end of the waterfall rappelling led us to the beautiful beach, but it was so tiring to hike back up to the lodge after a full day's activities.
Day 6 (Jan 6) ...
Corcovado National Park
Corcovado National Park

was established on 24 October 1975, and encompasses an area of 424 square kilometers (164 sq mi). It is the largest park in Costa Rica and protects about a third of the Osa Peninsula. It is widely considered the crown jewel in the extensive system of national parks and biological reserves spread across the country.


We left the lodge at ~ 6:30AM. The drive to the park was very productive in finding animals such as Squirrel Monkey, Spider Monkey, White-faced Capuchin, Caracara, Scarlet Macaw, etc. We parked our car at the end of the road and started the walk toward the park entrance with our guide (starting in 2014,

all Corcovado visitors must be accompanied by certified professional guides)

. The walk was in the dense jungle parallel to the beach and it provided even more opportunities to have close encounters with wildlife. We met with a few big groups of white-nosed Coatis that were walking and crossing the trails around us. With a short break and water refill at the range station, we continued our hike to Madrigal River, where the fresh stream water (cold) meets the salty ocean water (warm). After our packed lunch, we spent some relaxed time on the beach, and Linus and Iris were like kids again... After the 15-km round-trip hike, it was so good to have a bottle of cold beer!
Relax at El Remanso
It was early afternoon when we were back to the lodge. It was good to relax a little bit to enjoy the vacation...
Day 7 (Jan 7) ...
Bird Watch
Linus and Iris decided to have a good sleep so only Woanyu and I got up early to join this bird watch tour. We met at ~ 5:30AM and went to an open space where there were a lot of active birds (and cows). For most time in the past few days, Woanyu has been using her iPhone for some great bird photos (with the help from the guide)...
Fly back to San Jose
We were picked up at about noon (driven by the lodge owner Daniel) to go to Puerto Jimenez for our flight back to San Jose. When we were dropped off, we did not really recognize where the airport was. We were on a small 12-passenger airplane. The flight was only 45 minutes, but it was a quite new experience for me to see how pilots were "working" just in front of us.
We stayed one night at the beautiful Hotel Bougainvillea where we had an late afternoon lunch (since Linus and Iris did not have neither breakfast nor lunch) and a nice dinner.
Going Home (Jan 8) ...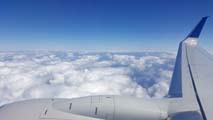 We had a very early flight (5:30AM) from San Jose to Panama City that we were picked up from the hotel at 2:30AM (so Linus claimed he did not sleep at all). When we were ready to depart from Panama City to San Francisco, the captain announced that they needed to stop by Cancun, Mexico to refuel because we won't have enough fuel for the direct flight to California due to the strong head wind condition. San Francisco was having one of the biggest storms in this winter, so we had to stay on the runway when we landed at SFO because all the delayed flights were jammed at the gates and terminals. When we were finally clear to get off the plane, it was already 4 hours later than the original schedule.
Costa Rica is indeed a beautiful place with nature around everywhere. However, we will need to have the patience to fully enjoy and appreciate the nature and understand how human can keep the least footprints on this lands.
---