Lake Tahoe

Feb.20 - 22, 1999
---
Lake Tahoe was named "big water" by the Washoe Indians. The lake is 22 miles long and 12 miles wide, and holds enough water to cover the entire state of California to a depth of 14 inches. Its average depth is 989 feet; the deepest point is 1645 feet, making Tahoe the 3rd deepest lake in North America.
Our original plan was going there on Feb.19, but my brother had some visa problem (it's a long story) and their schedule was delayed by a week. So we also changed the schedule by delaying one day.
Getting there ...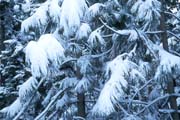 I rented a minivan to accommodate my family (my parents, my brother and my nephew Gugu, Clare, Linus, and myself). We were supposed to get the van by 9:00 in the morning, but when I went there to pick up the car, I was told the car had an accident and they had to get another car from another site. After I got the van, I also went to get snow chains becuase the forcast didn't look too good. It was already past 11:00AM when we were finally ready to go.
It was a fairly smooth drive although it was cloudy, and raining, and finally snowing on the way. For us growing up in Taiwan, it is a very exciting experience to drive in snow. I-80 remained clear and open, and we were happy that we didn't have to use the snow chains. Until almost reaching Lake Tahoe (near Northstar), we were stopped to put the chains on (it was also a long story!). After struggle with the chain for more than half an hour, we finally resumed our journey and arrived at our destination Incline Village around 6:30PM. We stayed in a vacation home with 3 bedrooms and a game room with a pool table. Believe it or not, it's the first time my father ever played at billiards!
The Second Day ...

| | |
| --- | --- |
| As usual, I got up early and walked out alone in the morning. There was a snowstorm last night and it was covered by a foot of snow everywhere. I walked to the beach and there was only my footprints left on the fresh snow. It was still cloudy, windy, and mixed with snow flakes. This is my first time to take pictures in snow since I've been serious about photography, and I realized how difficult it is to setup and operate the equipment with gloves in the cold weather. Although I didn't get any golden early morning light because of the weather, I was satisfied with the experience of walking on the fresh and soft snow especially when I found the snow on the road had been all cleaned up after I walked back to our lodge. | |
Heavenly Ski Resort
Although we didn't plan to ski, we went to Heavenly and took its tram ride up to the summit. The sky has been clear up, and the panoramic view of the lake is beautiful. I wish I could have stayed there till after sunset.
The Last Day ...

Kings Beach
We went to the King Beach after we checked out. The weather was good, and we even felt hot when we played snow on the beach. We made a snowman on the beach, and we did enjoy playing snow very much.
Going Home ...

Jelly belly



| | |
| --- | --- |
| | On our way back home, we stopped by a candy factory, Jelly Belly, in Fairfield. They offer free guided factory tour to look around their production line. We also got free Jelly Belly beans for souvenir. |
---