Yosemite

Jan. 1 -- 4, 2007
---
We chose Yosemite as our winter vacation destination again this year because we are never tired of the beauty of Yosemite. Unlike our previous winter Yosemite visit in 2001, we are more ready to try different winter activities, and I'll put aside my camera for most of time.
The First Day ...
Bridalveil Falls
As usual, Bridalveil Fall was our first stop in the Yosemite Valley. The weather has been warm for the past few days that there was not much snow left on the valley floor. We can walk very close to the base of Bridalveil Falls, which is impossible to get to in spring/summer seasons.
Curry Village Ice Skating Rink
Iris has been waiting for skating for several days before our trip. It turned out that skating was much more difficult than I thought. I had to hold on to the wall to keep my balance. Iris and Woanyu were much better in keeping their balance on ice, and they started to circle the rink on a faster (or a more normal) speed.
Sunset at Curry Village
After about an hour of struggling in ice skating, we decided to call it a day and headed back to Curry Village Lounge. Linus and I had a detour to a nearby meadow (covered by snow) for the last light of sunset, which illuminated the top of Half Dome and North Dome, with moonrise just beside Half Dome.
The Second Day ...
Badger Pass
We took the first free shuttle bus to Badger Pass at 8AM (I had to wake everyone up to get ready starting from 7AM....). We all took the beginner's ski lesson to get ready to hit the slope. However, Iris got so frustrated trying to control her skis that she quit after about an hour of basic lesson and had asked me to stick with her all the time. On the other hand, Linus was so excited to learn skiing, and he could not wait to finish his lunch to get back to practice.
After lunch, Iris refused to try skiing anymore. She and I walked uphills beside the ski slopes to make a snowman (well, it's more like a snow tower), and had a few snowball fights. Iris forgot about all the frustration she had this morning, and wanted to come back to play with snow again on the next day.
The Third Day ...
Yosemite Falls
Since the road condition to Badger Pass was so good that we decided to drive there today. Before we left the valley, we went to the Sentinel Bridge to have classic pictures of Yosemite Falls.
Badger Pass
Linus could not wait to come back to ski again that he kept telling us what he had learned from the lesson yesterday. After a long line of waiting for the equipment rental, Linus and I had a few runs on the beginners lift, and Iris and Woanyu went to play with snow and built a much nicer snowman. After lunch, Linus and I continued to enjoy skiing and polish our skills, while Iris and Woanyu drove back to Curry Village to have another session of ice skating.
Going Home ...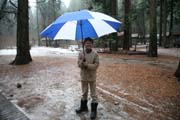 After a few days of perfect weather, it started to rain really hard on our last day, so we had to cancel our plan of sledding today. It's too bad that it was too warm to have snow in the Valley. After we headed out of Yosemite Valley, both Linus and Iris got car sickness after some driving, so we stopped at Yosemite View Lodge in El Portal to let them take a break. Winter activities in Yosemite are so diversified that we can keep trying different things: cross-country skiing and ranger-led snowshoe hiking will be on my list for the next winter Yosemite visit.
---